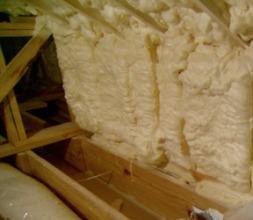 If you consider making use of expanding foam insulation services in GTA area, you have come to the right place. SprayFoamGreenLand Inc. is a Canadian spray foam contractor, able to provide you with highly effective expanding foam insulation at a fairly reasonable cost.
Expanded polystyrene foam insulation is not an easy task to do it yourself, especially if you lack experience in this field. Entrust your expanding foam insulation to SprayFoamGreenLand Inc. and you'll get a peace of mind for years. Expanding foam insulation requires professional approach, the highest quality insulation equipment and the team of trained experts who are ready to handle a task of any complexity and meet all your requirements.

Expanding insulation foam is perfectly suitable for filling gaps and cavities. The foam is expanded in the cavities providing heat, sound and moisture insulation. Expanding foam insulation is considered to provide long-lasting insulation results thus allowing you to dramatically reduce your energy bills and prevent lots of various problems. This method can be used for both interior and exterior insulation solutions. Expanding insulation foam can be easily painted or plastered giving you the ability to implement your creative design ideas to life.
Here at SprayFoamGreenLand Inc., we serve both commercial and residential clients so do not hesitate to contact us right now to discuss your particular expanding foam insulation needs. Make sure you will get here great customer service and reliable support.