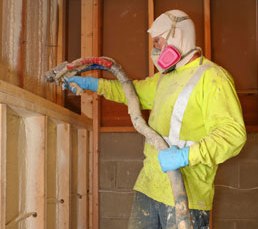 SprayFoamGreenLand Inc. is your #1 destination if you are looking for professional rigid foam insulation in GTA area. Conveniently based in Mississauga, we serve clients throughout the whole GTA area. Whatever your commercial or residential spray foam insulation needs are, entrust them to SprayFoamGreenLand Inc.

Here at SprayFoamGreenLand Inc., we offer a wide range of spray foam insulation services depending on your particular needs. If the application, which needs insulation, is constantly subjected to harsh wear and tear you should think of high density foam insulation. High density foam insulation is ideal for roof insulation applications as low density foam may provide poor insulation during cold rainy days.
Rigid foam insulation will bring you lots of advantages. You will dramatically reduce your energy bills and solve your moisture leakage problem thus preventing dangerous mold spreading. Rigid foam insulation is suitable for both residential and commercial buildings. Here at SprayFoamGreenLand Inc., we pride ourselves for great customer service and reliable support our clients receive from us. This is the key to our business success. We use only eco-friendly high density foam to keep your family safe and protected. Why don't you contact us right now to find our more detailed information about high density foam insulation and or get further assistance?