You build new home for your family and want to insulate it properly but also make it eco-friendly house?
Or you have your own home and want to do home renovations and add insulation to an existing home?
We can help you in both cases with best insulation solutions! We use insulating foam to make for you more energy efficient house!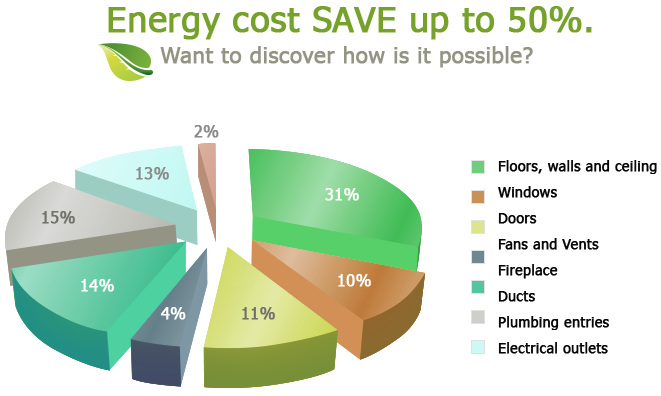 How to know if your house needs insulation with spray foam?
You spend too much money on heating and cooling
Temperature within a house differs a lot
You have mold growth in your basement
Walls in your rooms have moisture
There are huge or small drafts in your footings, basement, roof or walls
You notice too much dust or pollen in your rooms
Your building has no stability or needs improvement of structure
Living conditions in your home are not comfort neither in winter nor in summer
You want to live in eco-friendly house, save nature and health of your family
If you answered YES at least three questions, you need insulation with spray foam!
The average Canadian family wastes about 30-40% of the money on heating and cooling.
Select your average monthly energy costs from table and see how much money you can save over just the first 10 years on heating bills.
| | |
| --- | --- |
| Average monthly energy cost | Savings in 10 years |
| $50,00 | $2 641,00 |
| $75,00 | $3 961,00 |
| $100,00 | $5 283,00 |
| $125,00 | $6 604,00 |
| $150,00 | $7 925,00 |
| $175,00 | $9 246,00 |
| $200,00 | $10 565,00 |
| $225,00 | $11 888,00 |
| $250,00 | $13 207,00 |
| $275,00 | $14 528,00 |
| $300,00 | $15 847,00 |
The popularity of spray foam insulation grows fast for many reasons. Spray foam is recognized as one of the best ways to energy conservation and as one of the best ways to save money on your energy bills, year by year. If you are looking for ways to save money, and you doubt how to conserve energy in your home, weatherizing is the first thing to consider.
Installing foam insulation is not an easy task to do it yourself. That's why we strongly recommend you to entrust it to professionals. As a caring homeowner you should understand the importance of poly foam insulation to keep your family safe and protected. In the process of spray foam insulation we use only eco-friendly insulation materials giving you and your family peace of mind for years. By insulating high density foam you can prevent heat penetration and considerably reduce your energy bills.