Handi-Foam® Quick Cure Low-Pressure Spray Polyurethane Foam is a chemically cured, two-component system, designed to fill and insulate large voids and surfaces. Handi-Foam Quick Cure's excellent adhesion properties create a continuous air barrier. This quality completes the building envelope and results in improved indoor air quality and lower heating and cooling costs for the building or homeowner.
Properly applied Handi-Foam Quick Cure can help reduce energy consumption, leading many homes or buildings to be certified in their respective energy designation. Handi-Foam Quick Cure is also UL GREENGUARD™ Gold Certified. Handi-Foam Quick Cure is available in a variety of disposable and refillable sizes and is dispensed using the patented Handi-Gun® Dispensing Unit.
Personal Protective Equipment Required.Personal Protective Equipment Required.
Learn More
Tech Data & Resources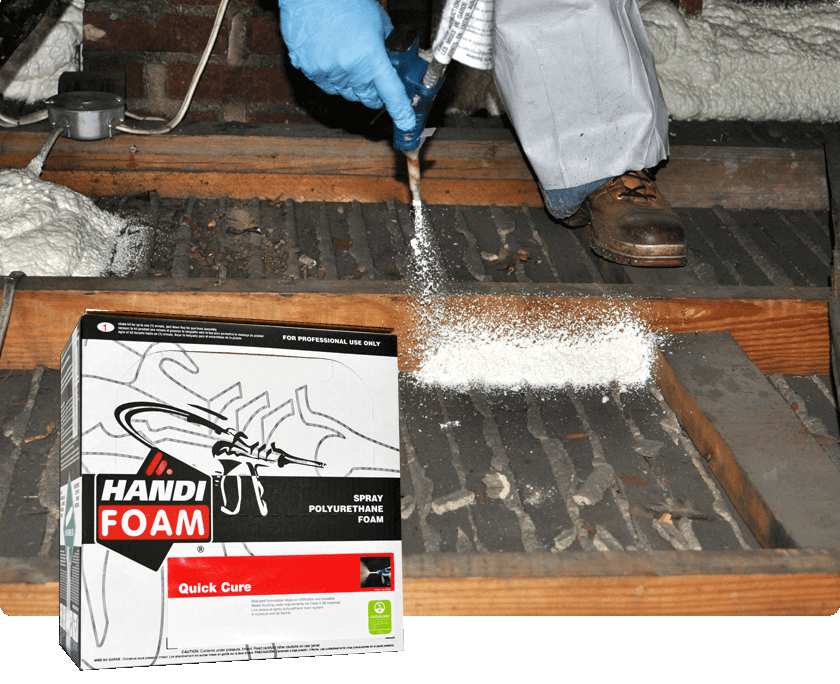 R-VALUE
6.0 at 1" thick
12.0 at 2" thick
DENSITY
1.75 lb/ft3 (28 kg/m3)
TACK-FREE TIME
30–60 seconds
CUTTABLE
2–5 minutes
FULLY CURED TIME
1 hour
CELL STRUCTURE
95% CLOSED cell content
FIRE RATING
ASTM E84 at 2" thick
Flame Spread
75
Smoke Developed
450
APPROVALS
GREENGUARD Gold
UL 94
HF-1
SHELF LIFE
6 months – Refill
12 months – Disposable
Product Details & Options
Use our interactive Yield Calculator to determine how much product you need.
| | | |
| --- | --- | --- |
| ITEM | DESCRIPTION | COVERAGE |
| P10600 | II-12 Handi-Foam | 12 bdft (1.1 m2) |
| P10650 | II-22 Handi-Foam | 22 bdft (2 m2) |
| P10700 | II-105 Handi-Foam | 105 bdft (9.8 m2) |
| P10720 | II-205 Handi-Foam | 205 bdft (19 m2) |
| P10749 | II-605 Handi-Foam | 605 bdft (56.2 m2) |
Common Product Uses:
RESIDENTIAL
Sealing insulation board joints
Foundation insulation
Residential wall insulation
Thin coat of spray foam to seal and insulate for "flash and batt"
Bath tub insulation and leveling
Air sealing attic
Sealing attic baffles
Post mold remediation sealing (prevent future mold)
COMMERCIAL & INDUSTRIAL
Thermal break on cinder block wall
Insulating metal buildings
Asbestos abatement and encapsulation
Sealing silos and storage bins
Cold storage insulation
Insulating storage tanks (gas, industrial, winery, etc.)
Temporary roof "night seal"
Sealing retrofitted windows in historical buildings
OEM
Manufactured housing insulation
Refrigerated trailer insulating (new & repair)
Truck cab insulating and stabilization
Air handler insulation
Foam shape creation
Hot tub insulation and structural support
Trailer insulation
Recreation vehicle insulation
Temporary emergency structure insulation
Vehicle door insulation and vibration control
OTHER PRODUCT USES
Trench breaker construction for erosion control
Archeological/Valuables packaging stabilizer
Post installation void filling (ie. hollow stadium seats)
Theater set design
Statue repair
Statue creation
Smoke house sealing
Structural support for taxidermy
Swimming pool construction
Repairing and sealing damaged cargo containers
Insulating and sealing military tents
Filling post/pole holes in replace of cement
Temporary seal of railroad hopper discharge outlet to prevent cargo leakage
"Tree surgery" to fill damaged cavities in trees
Foam base for floral arrangements